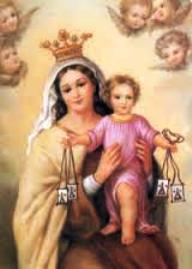 17 to 20 July 2017 in the chapel of the Franciscan Sisters (celebrating also the 100 years of the Franciscan sisters at Nadur)
Monday 17 to Wednesday 19 July:  Rosary at 5.30p.m. and at 6.00p.m. Mass led by Mgr. Renato Borg, antiphon and Eucharistic Benediction.
Thursday 20 July: FEAST DAY:  5.30p.m. Rosary and at 6.00p.m. Mass Mgr. Joseph Cauchi, and antiphon Eucharistic Benediction the kissing of the relic.