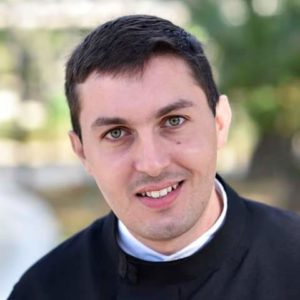 Motto: "Tradidi quod et accepi" (1 Cor. 15, 3)
We would like to congratulate Dennis Mifsud who will be admitted to the Clerical state through the Rite of Tonsure, instituted Lector and ordained Sub-Deacon on Sunday 18 December at 5:00 pm in the ​Personal Parish of Our lady of Damascus in Valletta. Eventually, on the 14 January 2017, at 5:00 pm a Divine Liturgy will be sung in the Basilica of Nadur as a thanksgiving to God for this great gift. Every Naduri is cordially invited for this event.
___________________
Nifirħu minn qalbna lin-Naduri Dennis Mifsud li nhar il-Ħadd 18 ta' Diċembru, 5:00 pm se jkun konferit bit-Tonsura Klerikali, istitwit Lettur u ordnat Sudjaknu fil-Knisja tad-Damaxxena fil-Belt Valletta. Eventwalment, fl-14 ta' Jannar, 2017 fil-5:00 pm se ssir Quddiesa ta' Ringrazzjament lil Alla fil-Bazilika tan-Nadur li għaliha mistieden il-poplu Naduri kollu.